Red Dragon Darts was founded nearly 50 years ago by two passionate darts enthusiasts who were also engineers.
The intelligent engineers learnt everything they could about tungsten so they could set up their own Darts manufacturing operation, a kind that the world had never seen, producing high quality, high performing tungsten darts.
Click Here For All Red Dragon Darts Prices & Availability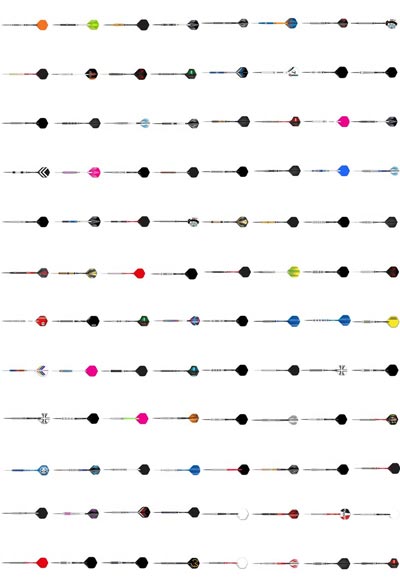 After nearly 50 years in the game, Red Dragon has produced millions of darts and has sold them to over 100 countries.
Red dragon continues to push the boundaries of Dart design and quality. Red Dragon promises to look after every dart they produce and every player that uses their darts.
Red Dragon Darts Ranges
Currently, there are 55 different ranges of darts from Red Dragon. When you consider the various weights and specifications within each range of darts, there are over 300 different Red Dragon Darts Available.
Some have their name, and some are named after pro darts players who have contributed to design and testing.
Dart Design And Parts
A dart is made up of 4 sections the point, the barrel, the shaft and the flight.
The point allows the dart to penetrate and stick into the darts board.
The barrel is the main dart section; barrels are available in many different shapes, grips and weights.
The shaft screws into the back of the barrel and houses the flight. The shaft length will determine how the darts fly.
Dart flights stabilise the dart during different flight sizes should be used for different applications.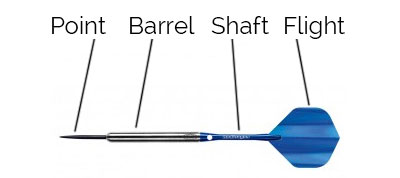 Point Types
Red dragon darts points are available in sizes 32, 34, 41, and a specialist 50mm. Most of their darts are supplied with either high tensile black or high tensile silver effect points. Other point finishes are available, along with specialist points.
Additional point finishes include a rainbow effect and titanium nitride, and you can even personalise them with your name.
Darts are supplied with 32-34mm points. However, some players prefer longer points of 41mm, allowing for tighter grouping of darts and depth into the board.
The standard silver effects point have a smooth finish for easy board penetration, while the black points have a medium coating for improved board retention. Specialist points include grooved, spiral, ringed, PVD coating and snakebite.
Grooved points are available in 32mm and 41mm each point has three grooves so they can be finger gripped. These points have a medium friction coating.
Ringed points are silver and will give you a medium grip, Spiral points are black and give you more of an aggressive finger grip.
Titanium Nitride and rainbow points have a PVD finish, giving you better board penetration and retention. The rainbow points are very colourful and look very impressive in flight.
Snakebite points are long 50mm points as requested by Peter Wright to make the darts like a Javelin. Peter confirms that these extra-long points make the darts fly very hard and straight with solid accuracy.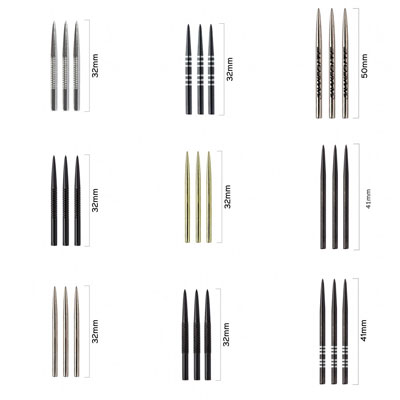 Barrel Weights
Red Dragon Darts are available in various weights from 10 grams to 48 grams. The most common dart weights are 22, 24 and 26 grams. These are rated as
No 1, 22 grams
No 2, 24 grams
No 3, 26 grams
No 4, All other weights above 26 grams
Choosing The Correct Dart Weight
Darts organisations allow darts up to 50 grams; although it is relatively uncommon to see a player throw darts heavier than 30 grams, most Pro Darts players use lighter No 1 darts of 22 grams. Some Pro's prefer heavier darts, though.
When starting, the ideal situation would be to go to a darts store and try throwing every available weight of darts with every barrel profile. But, unfortunately, this is not realistic for most people.
No 1 – No three darts (22-26 grams) are the best sellers. Red Dragon recommends starting with a heavier dart and overtime work out whether you require a heavier or a lighter dart.
A 26-gram dart is probably the best weight to start with as heavier darts are better for developing skill and are less affected by minor technical errors that could occur in the manufacturing process and slight wear over time.
As your skill improves and your nervous system becomes more attuned to throwing, you might naturally move towards a lighter dart.
Barrel Profiles
Parallel Barrels
Parallel barrels are straight with a uniform diameter along the grip length; similar barrels have a centre weight distribution and a full-length grip zone. Parallel darts are the best all-around darts.
Scallop Barrels
Scallop barrels come in various shapes and have a concave or convex section in the thumb and index finger grip.
The weight distribution can be front or centre, while the grip zone can be centre, rear and centre, front and rear and rear and centre. So it depends on what design you choose.
Tapered Barrels
Tapered Barrels all have tapered front profiles where the diameter gets gradually smaller along with the grip and are available with front or centre weight distributions with all types of grip zone.
Torpedo Barrels
Torpedo Barrels are usually centre weight distributed with an elliptical front profile. Although some Torpedo darts have a tapered front profile, they are generally available in heavier sizes than slimmer profile darts.
Specialist Barrels
Specialist barrels combine one or more Torpedo, Tapered, Scallop and PArallel barrels and sometimes two or more grips types. Specialist barrels are the most interesting of all darts as they are usually unique and have been designed to a players exact specifications and preferences.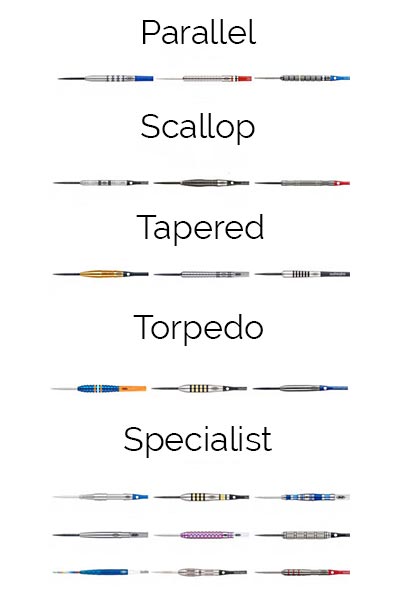 Front Profiles
The dart profile is where the barrel meets the point. There are three profile shapes: Round, Tapered, and Elliptical. Round profiles have rounded dome-like fronts, while Tapered profiles are longer and 'taper' down rather than round off.
Elliptical profiles are rounded and tapered, being somewhere between the two.
Grip Levels
There are five grip levels which are 1,2,3,4, and 5. Number 1 is the mildest grip and will release the fingers quickly (but some may find this level too slippery), while number 5 is the most aggressive grip.
Your preference for grip level will likely change over time.
If you're a beginner, it would be a good idea to start at level 3 and work your way up or down over time, depending on your style and developed preference.
Grip Types
Dart grips are essential; different grips send different signals from the hand to the brain.
The grips are created from various CNC milling techniques, and the latest technology has ensured there are hundreds of different grips available from Red Dragon.
A dart can have a single grip type all along the shaft or be a combination of different grip types. Buttress grooves are 'sharkfin like'. They are parallel at the back and taper down at the front.
Carnage grip grooves are aggressive level 5 grips made from Aero Grade 90% high-density tungsten Delta grips are another fierce grip of level 5. The torpedo-shaped barrel is a fusion of buttress grooves and square grips.
Dual grooved grips are made up of two grip types: buttress groove/round or wave/square etc., the combination of grip depends entirely on the dart.
Micro-grooved darts have shallow grooves and usually medium level grips. In addition, buttress groove grips have been milled to add another dimension to the grip, such as an additional notch or a wave.
Round grooved darts have rounded edges at the top of each groove and are a mid-level grip type.
Scallop grips have an indentation on the thumb and finger grip; a scallop dart can have one, two, or even three indentations.
Specialist grips have unique designs not found on any other dart. For example, square grooved darts have straight edges at the top of each groove and are more 'grippy' than rounded grooves.
Knurled grips are available in a range of levels, including fine, medium, heavy, and extra heavy.
Grip Zones
There are several types of grip zone full length, centre, front, rear and mixed. The mixed grip darts combines two grip zones: front and rear or rear and centre.
The player's thumb and finger can be placed anywhere on a full-length grip dart. For example, on a front grip zone dart, the thumb and finger will grip the dart towards the front, a centre grip dart will be gripped in the centre, and on a rear grip dart, the thumb and finger will grip at the backend of the dart.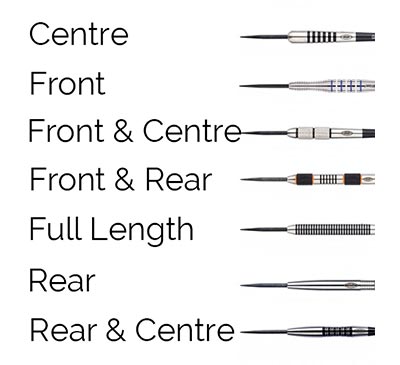 Shafts
Dart shafts are available in nylon or aluminium. Steel tip darts players (pretty much all darts players) prefer nylon shafts as they are lighter, more flexible and fly better.
Soft tip darts players prefer aluminium shafts as the extra weight makes up for losing weight when not using a steel tip. Some Red Dragon darts are supplied with both nylon and aluminium shafts.
Nylon Shafts
Red Dragon Nylon Shafts are available in short 35mm and medium 48mm the harder darts throwers prefer shorter shafts while the gentler throwers prefer medium. Extra short 27mm shafts and intermediate 41mm are also available for specialist throwers.
Nylon shafts are available in a range of colours: black, red, white, blue, pink, hot pink, green, yellow, natural, fluorescent green, fluorescent yellow, black graphite, black shimmer, and silver shimmer.
Shafts can also be personalised to your specifications.
Aluminium Shafts
Red Dragon aluminium shafts are available in extra short 26mm, short 36mm or medium 46mm some of these shafts come with the option of a grip.
Aluminium ranges include Anodised, DRX, Extra Grip, Laser Etched, Plain, Plain Knurled, Razor Edge and Re-grooved. Available in black, red, white, blue, orange, green, silver and white.
Dart Flights
Red Dragon Flights are available in 5 different shapes and three different thicknesses. However, standardly shaped flights of 100 microns thickness (the mid-level weight) are the most commonly used dart flights.
When it comes to flights, the general thesis is the bigger and heavier the flight, the more stable it is in the air once thrown.
Until you have some experience under your belt, start with a Standard 100 Micron flight, there are nearly 200 designs to choose from.
Dart Flight Thicknesses
75 Micron
100 Micron
150 Micron
Dart Flight Shapes
Standard
Kite
G-String
Oversized Pear
Pear
Dart Flight Colours & Designs
There are many different dart flight colours and designs to choose from, including black, red, white, blue, orange, green, silver, pink, yellow, gold, clear and purple. There are also lots of mixed colour designs on offer.
Dart Finishes
Red Dragon Darts are available in a range of finishes which include
Atomised – The barrel feels like stone with a grip to match.
Diamond Fusion – Fine diamonds are used on the barrel for the ultimate grip.
Gold Plated – A flash gold look and feel.
Onyx – Alternating colours in a straight parallel band with the options of painted or polished.
PVD – Options of black, blue, gold, green, gunmetal, pink, purple and rainbow effect.
Zirconium Nitride – A silver type hard metal.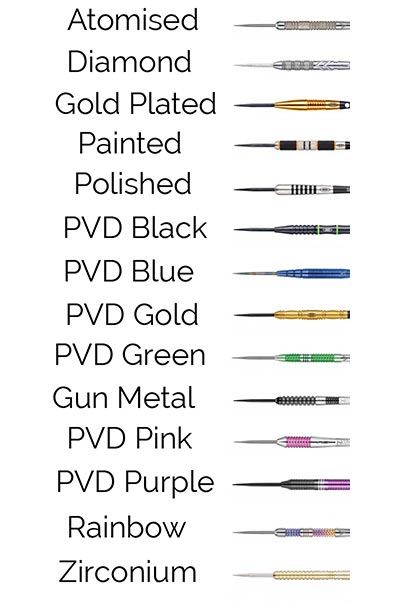 Tungsten
Red Dragon Dart barrels are made from tungsten and are available in the Tungsten percentages of 80%, 85%, 90%, and 95%. The higher concentrated tungsten darts are thinner in diameter than the lower percentages of tungsten darts, and as they contain more tungsten are more expensive.
The tungsten percentage will depend on your preference of dart diameter players who prefer fatter barrels in their fingers will likely go for the 80% darts, while those who like thinner barrels will choose the 90% darts.
Thinner barrels also have the slight advantage of all fitting into the treble 20 easier as a thinner set means more space for each dart.
Personalised Darts
Red Dragon offers a personalisation service so you can personalise darts for yourself or as a gift for a friend, colleague or family.
Using laser technology, you can have your initials or three letters (ideal for those with three-letter names)
Custom Darts
The custom-fit darts are for the Pro, serious player, or those who want to invest in their game.
The Red Dragon team (who work with many professional players) will analyse your grip, set up, stance and throw to work out your exact requirements and then make you the set of darts that is 100% perfect for you.
The darts are then tweaked to perfection before the finish, colour and styling that you specify are added to finish the darts.